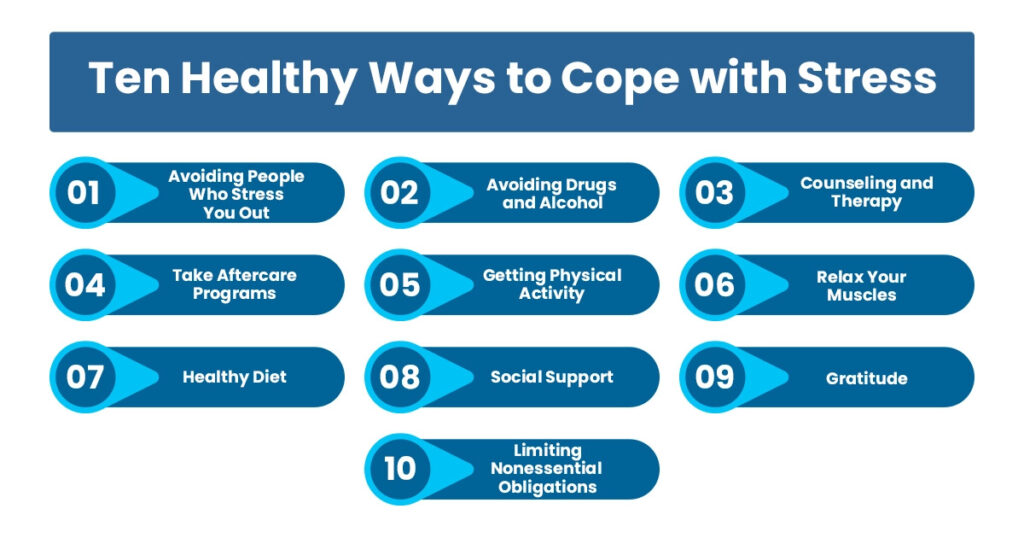 Recovering addicts often find it challenging to deal with everyday life after completing an addiction treatment program. Initially, the individual may feel euphoria, but this feeling will soon fade as they face the rigors of everyday life. Those reintegrating from treatment may face challenges, such as establishing a sober social life, adjusting to new work schedules, and readjusting to a new environment. It may be helpful to develop new habits based on the tools and skills learned during the treatment program.
Co-occurring disorders or stress can be complicated, but it doesn't have to end your world. If you want to reduce stress, you've come to the right place. You'll find 10 ways to cope with chronic stress. These tips can help recovering addicts develop healthy coping mechanisms. Addiction treatment will address underlying issues. Following these tips can prevent chronic stress and enjoy life even more.
10 Useful Ways to Cope with Stress
Some sources of stress are unavoidable, such as the death of a loved one or a national recession. In such cases, coping with stress requires acceptance of the situation rather than railing against it. Don't try to change the uncontrollable; instead, focus on things you can control. Some people find avoiding the source of stress very helpful. Whether you are a teenager or a parent, there are easy ways to cope with stress.
Avoiding People Who Stress You Out
Despite the name, stress is a negative emotion. And it can be contagious, leaving you feeling emotionally drained. Fortunately, there are ways to avoid being around people causing stress. One of them is to avoid eye contact. Many people who find eye contact difficult avoid interacting with stressors, and that's a good thing.
Avoiding Drugs and Alcohol
There are many reasons to avoid using drugs and alcohol to cope with stress. Studies have shown that prolonged stress can make a person more susceptible to addiction. Stress changes the wiring in the brain, making it more vulnerable to addictive behaviors. Even though substances like alcohol and drugs can temporarily alleviate stress, they will not relieve it for long. Chronic stress can also lead to a relapse. Stress is a normal part of life, but the use of drugs and alcohol can turn it into a dangerous coping mechanism.
List high-risk situations to keep yourself from using drugs and alcohol to cope with stress. Review this list with a friend or family member in recovery, so you don't miss a thing. It could save your life.
Counseling and Therapy
Counselors and therapists work with patients to identify what triggers compulsions and relapses. Knowing these triggers in advance can help the person build resilience and confidence. Therapy can also help redevelop one's social skills, thereby preventing substance use relapse. Ideally, therapists and counselors should continue to work with the patient long after treatment. Counseling and therapy can also help a recovering addict find new ways to deal with everyday life. If you are searching for a counselor, Haven Detox New England is the best rehab center. You need to drop a call, admit to a program, and move your life toward sobriety.
Take Aftercare Programs
An addict will still experience normal emotions, and addressing them is crucial to long-term recovery. Aftercare programs offered by drug and alcohol rehabs are often essential to a recovering addict's success. Aftercare programs help addicts to find new ways to deal with life after treatment of addiction. You can take aftercare programs from The Haven-New England in the United States. Our priority is to take care of your mental health. You can contact the Haven rehab facility online to set up your therapy program.
Getting Physical Activity
Many people turn to exercise as a stress-management strategy. A recent study of high school students showed that a 10-minute exercise break reduced stress levels and improved cognitive function. While many studies focus on aerobic exercise, weight-training programs are less common. Experts recommend you engage in at least 150 minutes of moderate to vigorous aerobic exercise weekly. Break up daily exercise into shorter sessions if you are under a lot of stress from your job or family.  
Relax Your Muscles
The best way to cope with stress is to relax your muscles to refresh your mind and body. Many ways help you to loosen up your body. Practice the following tips and maintain your path toward recovery.
Stretching
Yoga
Take massage
Take a hot bath
Set your sleep routines for at least 8 hours at night.
Try sneaking in an extra 30 minutes of each day with physical activity, and you'll be surprised how much of an impact it has on your stress levels.
Healthy Diet
If you constantly feel stressed, you may find it challenging to stick to a balanced diet. While cravings for sugary or processed foods often accompany the onset of stress, this is detrimental to your overall health in the long run. Sugar provides a temporary energy boost that masks the negative feelings of anxiety. Still, over time it will cause your blood sugar levels to crash, leaving you irritated and prone to food cravings.
A healthy diet can reduce stress by providing your body with the necessary nutrients and vitamins. It can help you cope with the pressures of everyday life.
Social Support
While social support is essential for coping with stress and maintaining good health, research shows that positive reinforcement can enhance resilience to chronic stress, reduce the functional consequences of trauma-induced disorders, and reduce medical morbidity and mortality.
Social support is a powerful way to manage chronic stress. A growing body of evidence suggests that social support is essential for reducing negative consequences. High levels of social support enhance feelings of belonging, lower arousal, and encourage healthy coping behaviors. They can help individuals redefine stressful situations as less threatening and foster better emotional regulation.
Gratitude
Recent research shows that people who practice gratitude have better outcomes of common trauma. One study examined 182 female college students who had suffered a traumatic event. The most common types of trauma were car accidents or life-threatening illnesses. Only 12.6% of these students were diagnosed with PTSD. The study concluded that practicing gratitude benefits physical and psychological health.
Gratitude can help counteract the negative thoughts that plague people. By writing down the things you are grateful for, you are ensuring that your mind remains focused on the present. This can help you make the most of the day and keep stress at bay. It is recommended that you practice gratitude daily. For best results, write about three things at the end of the day.
Limiting Nonessential Obligations
If you suffer from chronic stress, limiting nonessential commitments can help you deal with it. Learn to say "no" when needed, and avoid taking on additional obligations unless you really must. It's not easy to say "no," but limiting your obligations will help you cope with chronic stress. In addition to saying "no," you can delegate responsibilities to others.
It is recommended that people try to reduce their nonessential obligations. When evaluating responsibilities, determine what is necessary for survival, and cut back on nonessentials. If you feel overwhelmed, you can also reach out to your supervisor, community partners, and family for help. In addition to cutting back on your responsibilities, you can also reach out to others for support.
Frequently Asked Questions (FAQs)
What are 5 healthy ways to deal with stress?
Here are 5 healthy ways to cope with stress. These five tips can help you deal with stress and improve your health. Try these methods and feel better soon!
Take a deep breath, stretch, or meditate.
Try to eat healthy, well-balanced meals.
Exercise regularly.
Get enough sleep.
Avoid excessive use of alcohol, drugs, and addictive substances.
What are 7 ways to deal with stress in a healthy way?
7 valuable tips for dealing with stress in a healthy way are:
Find patterns to track your stressors.
Limiting nonessential obligations
Develop self-help techniques.
Make your health commitment.
Manage your social accounts.
Improve the timetable of your sleep.
Get help from counselors.
What are good ways to cope with stress, worries, and anxiety?
Many good ways to cope with stress, worries, and anxiety exist. Some helpful ways are:
Doing exercise regularly
Go for a morning walk
Reduce supplements
Make fun with your friends or loved ones
Take a yoga class
Schedule your hobbies
What do you do to cope with stress, and how does it help?
Health experts recommend building emotional strength, developing a strong social network, and adopting a positive attitude will help you to cope with stress.
Overcome Stress Problem with The Haven New England Rehab Facility
Stress is a normal part of life, but it can lead to several health problems when it becomes chronic. Healthy coping strategies for stress can help you deal with difficult situations and maintain emotional well-being. Significant life events, both positive and negative, often cause psychological stress. These stressful events can change our behavior, thoughts, or emotions. The above-described 10 coping strategies are the ones that help you to deal with the situation in a healthy way.
Chronic stress can affect both your mind and body. You may feel depressed, anxious, or irritable if you have too much stress. The sooner you address the problem, the sooner you will be able to recover.
If you are suffering from chronic stress, the best way to relieve the symptoms is to take counseling therapies from The Haven, New England. Our treatments or therapies help you learn new ways to live a better life and think positively in every situation. Our professional counselor teaches you to learn more about stress management. 
We provide 24/7-hour quality services. To learn more about our services, call us at (844) 933-4145.